Iran enriching uranium to higher levels than reported, says UN
The IAEA has found uranium enriched up to 27 percent in an underground bunker in central Iran, several diplomats told The Associated Press. Until now, Iran had only reported enriched uranium to 20 percent. Highly enriched uranium can be used to make nuclear weapons.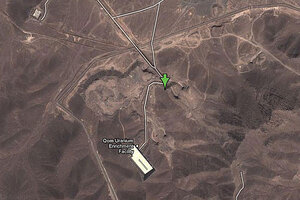 Google Maps
The U.N. atomic agency has found evidence at an underground bunker in Iran that could mean the country has moved closer to producing the uranium threshold needed to arm nuclear missiles, diplomats said Friday.
The news comes a day after Iran and six world powers found they were still far apart over how to oversee Tehran's atomic program but wanted talks to continue to avoid possible military action.
Iran is under several rounds of U.N. sanctions for its failure to disclose information on its controversial nuclear program. Tehran says it is enriching uranium to provide more nuclear energy for its growing population, while the U.S. and other nations fear that Iran doing that so it can later make nuclear weapons.
RECOMMENDED: Six key factors in Iran nuclear talks
The International Atomic Energy Agency has found traces of uranium enriched up to 27 percent at the Fordo enrichment plant in central Iran, several diplomats told The Associated Press.
That is still substantially below the 90-percent level needed to make the fissile core of nuclear arms. But it is above Iran's highest-known enrichment grade, which is close to 20 percent and can be turned into weapons-grade material much more quickly than the Islamic Republic's main stockpile, which can only be used for fuel at around 3.5 percent enrichment.
---