Syrian forces and pro-Assad militia could face prosecution for Houla massacre, UN says
Over 100 people were killed in the Syrian town last week. Human rights experts also claim that Syrian authorities ordered the torture of civilians, including children.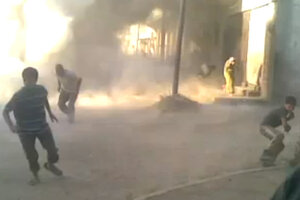 Amateur Video via AP video/AP
Syrian forces and pro-government militia accused of committing a massacre in Houla could face prosecution for crimes against humanity, the United Nations said on Friday and rights experts said Syrian authorities had directly ordered torture.
U.N. High Commissioner for Human Rights Navi Pillay called again for the Security Council to refer Syria to the prosecutor of the International Criminal Court (ICC) and for world powers to help implement Kofi Annan's peace plan to end the violence.
In a speech read out on her behalf to an emergency session of the U.N. Human Rights Council, she cited allegations that the Syrian military unleashed a barrage of heavy weapons on the town of Houla a week ago and that shabbiha groups killed dozens of the 106 victims, including women and children.
"These acts may amount to crimes against humanity and other international crimes and may be indicative of a pattern of widespread or systematic attacks against civilian populations that have been perpetrated with impunity," she said.
Pillay, a former war crimes judge, added: "I reiterate that those who order, assist or fail to stop attacks on civilians are individually criminally liable for their actions."
The Human Rights Council was set to call on Friday for a full U.N. inquiry into the massacre after putting initial blame on government bombardment and gunmen loyal to President Bashar al-Assad, diplomats said.
It is the 47-member forum's fourth special session on Syria in a year, raising pressure on his increasingly isolated government.
---