Rafael Nadal takes record seventh French Open title
Rafael Nadal beat Novak Djokovic in four sets in the French Open Monday. Nadal has won the French open seven of the past eight years.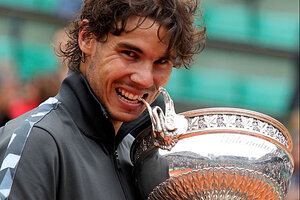 REUTERS/Regis Duvignau
Rain or shine, clay or mud, Sunday or Monday, Rafael Nadal rules Roland Garros.
The man they call "Rafa" won his record seventh French Open title Monday, returning a day after getting rained out to put the finishing touches on a 6-4, 6-3, 2-6, 7-5 victory over Novak Djokovic. He denied Djokovic in his own run at history — the quest for the "Novak Slam."
The match ended on Djokovic's double-fault, a fittingly awkward conclusion to a final that had plenty of stops and starts, including a brief delay during the fourth set Monday while — what else? — a rain shower passed over the stadium.
RECOMMENDED: Who is the best tennis player of all time?
They waited it out and Nadal wound up as he has for seven of the past eight years: down on the ground, celebrating a title at a place that feels like home. He broke the record he shared with Bjorn Borg, improved to 52-1 at the French Open and beat the man who had defeated him in the last three Grand Slam finals.
"This tournament is, for me, the most special tournament of the world," Nadal said.
After serving his fourth double-fault of the match, the top-seeded Djokovic dropped his head and slumped his shoulders, an emotional two-day adventure complete, and not with the result he wanted.
---