Yemen army takes back two cities from Al Qaeda-linked forces
Yemen's Defense Ministry announced Tuesday that the army had driven fighters linked to Al Qaeda out of Zinjibar and Jaar.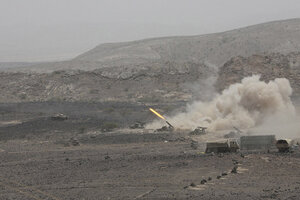 Yemen Defense Ministry/REUTERS
The Yemeni army drove al-Qaeda-linked fighters from two of their main strongholds on Tuesday after weeks of fighting, the Defense Ministry said, a major breakthrough for a U.S.-backed offensive meant to secure stability in the wider oil-rich Gulf region.
Jubilant residents took to the streets of the provincial capital of Zinjibar and the strategic city of Jaar in spontaneous celebrations after militants from Ansar al-Sharia (Partisans of Islamic Law), who had held the two southern cities for more than a year, fled advancing Yemeni troops.
"I am now speaking from the local government headquarters in Zinjibar," Major General Salem Qatan, commander of the southern region, told Reuters by telephone. "The cities of Zinjibar and Jaar have been completely cleansed," he said.
The recapture of the two cities is the army's biggest victory against the militants in more than a year of political turmoil that has taken the country to the brink of civil war, raised questions about its territorial integrity, and fuelled fears about al Qaeda's presence in a country that is next door to Saudi Arabia, the world's top oil exporter.
Ali Saeed Obeid, a military spokesman, told Reuters the fall of Jaar was "an astounding defeat for al Qaeda".
The Defense Ministry said the army, backed by local fighters from popular committees, had entered Jaar on Tuesday morning after heavy fighting that killed at least 20 militants, four soldiers and two civilians. At least 20 Yemeni soldiers were also wounded in the fighting, it said.
---