Syria insists downed Turkish plane was 'not an attack'
This week NATO leaders will decide how to respond to Syria's downing of a Turkish jet, which Turkey argues was in international airspace.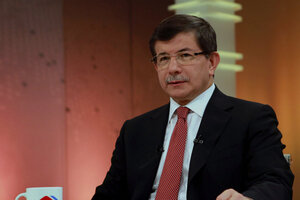 Hakan Goktepe/AP
NATO leaders will meet this week to discuss whether and how to respond to Syria's downing of a Turkish jet in what Turkey insists was international airspace. The incident has spiked regional tensions caused by the conflict in Syria, where reports Sunday said nearly 40 people died in new clashes between rebels and regime forces.
The jet's wreckage was found in the Mediterranean at a depth of 4,265 feet (1,300 meters), Turkish state media reported Sunday. The two pilots remain unaccounted for.
Turkish Foreign Minister Ahmet Davutoglu said the jet was on a training flight to test Turkey's radar capabilities, not spying on Syria. He said the plane mistakenly strayed into Syrian airspace Friday, but was quickly warned to leave by Turkish authorities and was a mile inside international airspace when it was shot down off the coast of Latakia.
Syria insisted Saturday that the shooting was "not an attack" and that the aircraft had violated its airspace. But Turkish authorities say Syria didn't warn the Turkish plane nor send its own jets to confront it. Turkish Prime Minister Recep Tayyip Erdogan was expected to make a statement Tuesday and might announce some retaliatory steps.
"No one should dare to test Turkey's capabilities," Davutoglu said Sunday.
Meantime, at the request of Turkey, NATO's governing body will meet Tuesday to discuss the incident, said Oana Lungescu, a NATO spokeswoman. The consultations will focus on article 4 of NATO's founding Washington Treaty.
---