Is Rafael Nadal ready for a third Wimbledon title?
After his seventh French Open win, can Rafael Nadal defeat Novak Djokovic and Roger Federer at Wimbledon? Nadal says such talk is "arrogant."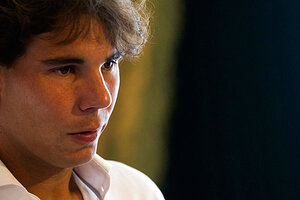 REUTERS/Sergio Perez
His practice session completed on the eve of Wimbledon, Rafael Nadal departed the All England Club on foot, leading a small entourage out the gate and up a hill, momentum on his side.
He won a record seventh French Open title two weeks ago. He has three consecutive victories over top-ranked Novak Djokovic, the most recent coming in the final at Roland Garros. He has won four tournaments this year, all since mid-April.
But Nadal's not about to proclaim himself the favorite to win Wimbledon for a third time.
"I'm very happy the way things went the last couple of months," he said. "But thinking about winning another title here in Wimbledon is arrogant and crazy. That's something I cannot think about, no?"
RECOMMENDED: Who is the best tennis player of all time?
Nadal's not one to overlook an opponent, which in this case means No. 80-ranked Thomaz Bellucci of Brazil in the first round Tuesday. But fans have the luxury of projecting Nadal into the final, and wondering whether he'll then meet Djokovic or six-time champion Roger Federer.
Either matchup would renew a rivalry. Nadal is 18-10 against Federer, and they've played in a record eight major finals, with Nadal winning six.
---