Venus Williams suffers 1st round defeat at Wimbledon
For the first time in 15 years, former Wimbledon ladies' singles champion Venus Williams tasted defeat at the All England Lawn Tennis Club on the tournament's first day.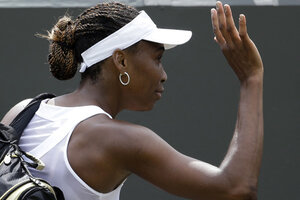 Alastair Grant/AP
For the first time since her debut appearance at the All England Club 15 years ago, five-time Venus Williams failed to get past the first round of Wimbledon.
The seven-time Grand Slam champion was eliminated 6-1, 6-3 by Elena Vesnina of Russia at Wimbledon on Monday, the latest setback in her return to tennis after being diagnosed with an energy-sapping autoimmune disease.
Williams, who has fallen to 58th in the rankings, lost the first five games on Court 2 to the 79th-ranked Russian and, although she picked up her game and fought hard, was never able to turn the match around.
It was the first time Williams lost in the opening round of a Grand Slam since the 2006 Australian Open— the first at Wimbledon since her debut appearance in 1997.
"I feel like I'm a great player," Williams said. "I am a great player. Unfortunately I have to deal with circumstances that people don't have to deal with normally in a sport, but I can't be discouraged by that. I'm up for challenges. I have great tennis in me. I just need the opportunity."
There were no opening day troubles for top-ranked Novak Djokovic, six-time champion Roger Federer and No. 1 Maria Sharapova, who all enjoyed easy straight-set wins on a cloudy but dry start to the two-week grass court championships.
---