Greece names new finance minister
Yannis Stournaras, a prominent economist who has been working on the country's efforts to join the euro, has been tabbed by the government to head up its finance ministry.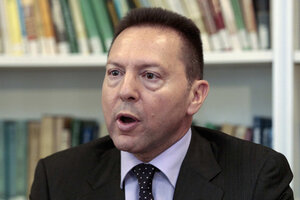 Yorgos Karahalis/REUTERS/File
Greece named prominent economist Yannis Stournaras, who was involved in the country's negotiations to join the euro, as its new finance minister Tuesday.
Prime Minister Antonis Samaras' office made the announcement a day after the banker previously named to the position, Vassilis Rapanos, resigned for health reasons.
Stournaras, 55, is currently the head of the Foundation for Economic and Industrial Research, a think tank and research body that advises the government. A professor of economics at the University of Athens, he spent several years heading the Finance Ministry's Council of Economic Advisors.
"I do think we have the ability to get past this problem. But we must be realistic," Stournaras said about Greece's financial crisis, speaking at a book presentation shortly before his appointment was announced.
"We have a difficult road ahead of us, an uphill road. But Greece is a country with great potential ... We have to get through a wall — a wall of entrenched attitudes, and those who do not want to hear that Greece has potential. But we will be able to carry it out."
Rapanos resigned Monday from his hospital bed, where he had been since being rushed there following a collapse on Friday. He was discharged Friday.
Rapanos was admitted to hospital before he had time to be sworn in to office, so the title is officially still held by the outgoing minister, Giorgos Zanias.
---