Turkish troops head to Syrian border
As several nations prepare for an emergency meeting of the Action Group for Syria, Turkey deploys troops to defend its border. The international community has so far been unable to come to consensus about next steps as the crisis continues.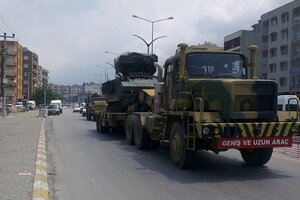 REUTERS/Ahmet Seher/Ihlas News Agency
Turkish troops and anti-aircraft batteries were headed toward the tense Turkish-Syrian border region Thursday amid reports that U.N. special envoy Kofi Annan was calling for a transitional "national unity" government as a potential solution to the crisis in Syria.
The Turkish deployment appeared moderate in scale and seemed more defensive — and perhaps symbolic — than offensive in nature.
On the diplomatic front, published reports have indicated that a new "road map" from Annan envisions a transitional government in Syria that would include representatives of the opposition and possibly some members of the current government.
However, the plan would reportedly exclude anyone whose presence could "undermine" the transition — wording that many interpret as aimed at President Bashar Assad.
However, Russian Foreign Minister Sergei Lavrov cautioned that any reported additions to the Annan peace plan had not been finalized or agreed upon by all parties.
"There are no approved projects; the work on the possible final document is in progress," Lavrov said at a news conference in Moscow.
Russia and the United States are among the nations expected to attend an emergency meeting Saturday of Annan's so-called Action Group for Syria.
The session is a last-ditch effort to salvage Annan's six-point peace plan, widely violated by both sides. Its centerpiece was a cease-fire that never took hold. Violence has escalated in recent weeks in Syria, where Assad's forces have been battling an uprising for more than 15 months.
---