South Korea puts off Japan military pact at last minute
Shortly before the signing was postponed, Japan's foreign minister had called the military intelligence agreement with South Korea a 'historic event.'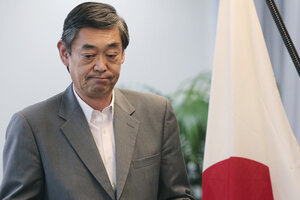 Itsuo Inouye/AP
Japan and South Korea put on hold an intelligence sharing pact less than an hour before it was to be formally signed Friday, in a major embarrassment for both countries forced by a political outcry in Seoul.
The military pact, the first between South Korea and Japan since World War II, had been seen as a breakthrough between two neighbors with a difficult history. Shortly before the signing was postponed, Japan's foreign minister had called the agreement a "historic event."
The agreement caused an uproar in South Korea, which was ruled by Japan as a colony for several decades until the end of World War II in 1945. Critics say the government in Seoul, fearing a backlash from opponents who don't trust Japan, had pushed the pact through without allowing enough public debate.
Japan's Cabinet approved the pact Friday, after South Korea's approval earlier in the week. But Seoul backtracked Friday, saying it would hold off on the formal signing ceremony because of concerns among South Koreans.
Japan's Foreign Ministry said the ceremony was postponed because of a request from Seoul.
"This is an agreement that we think is very important," said Noriyuki Shikata, deputy Cabinet secretary for public relations. "Our view is that we still want to sign it."
---