Why Rafael Nadal lost so early at Wimbledon
Rafael Nadal was eliminated in the second round of Wimbledon. It's the first time since 2005 that Rafael Nadal has left a major tournament in the second round. What happened?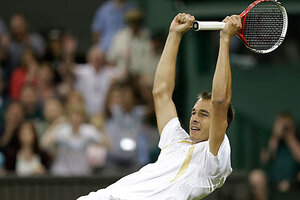 (AP Photo/Anja Niedringhaus)
Rafael Nadal bumped into his unknown and unheralded opponent as they headed to a break between games. Perhaps it was incidental contact.
At the previous changeover, Nadal stood and barked at the chair umpire, complaining about being distracted by 100th-ranked Lukas Rosol while serving. Later, Nadal shook his head and frowned when a Wimbledon official explained that, with light fading and the second-round match heading to a fifth set, they'd need a 45-minute break to close the retractable roof and turn on the lights at Centre Court.
Of all the things that rattled Nadal on Thursday evening, the most significant was Rosol's gutsy game — his 22 aces, violent groundstrokes and shot-punctuating staredowns. Put it together and Rosol, making his debut at the All England Club, overpowered 11-time Grand Slam champion Nadal 6-7 (9), 6-4, 6-4, 2-6, 6-4, one of the most astonishing results in tennis history.
RECOMMENDED: Wimbledon 101: What you need to know
"That's (what) happens when you play against a player who is able to hit the ball very hard, hit the ball without thinking and feeling the pressure," the second-seeded Nadal said. "At the end, when the opponent wants to play like he wanted to play in the fifth (set), you are in his hands, no? Everything was going right for him."
It's the first time since 2005 that Nadal lost in the second round at any major tournament. It also ends two streaks for the Spaniard: He reached the final at the previous five Grand Slams, and also reached the final the last five times he entered Wimbledon, winning the grass-court tournament in 2008 and 2010.
"He played a good match," Rosol said, "but I think I was better today."
---