Rausing London home sealed off by police
One of the world's wealthiest families, the Rausings, of Tetra Pak fame, lost one of its members, Eva. Police are investigating her death and have detained a man in connection with it.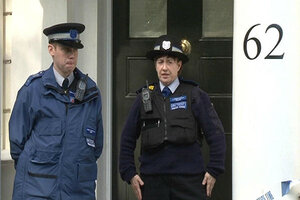 AP Photo/PA Video, Leanne Rinne
London murder detectives are investigating the death of the American wife of an heir to the Tetra Pak drinks carton fortune and have arrested a man reported to be her husband.
Eva Rausing, daughter of U.S. businessman Tom Kemeny, led a gilded life marred by drug addiction and had a host of connections with royal patrons of anti-drug charities to which she and her husband, Hans Kristian Rausing, 49, devoted millions from the fortune his Swedish grandfather made from packaging.
Police said on Tuesday they were holding a 49-year-old man in connection with the death of Eva Rausing, who was found dead on Monday in her home in the capital's wealthy Belgravia district. He was also being investigated for drug possession. But they declined to confirm British media reports that he was Hans Kristian Rausing.
Statements from both spouses' parents made no mention of him in expressing sadness, shock and admiration for the mother of his four children, and for her charity work to curb drub abuse.
The couple, who were reported to have met while undergoing rehab in the United States, hit headlines in 2008 when Eva Rausing was found carrying heroin and the "ghetto drug" crack cocaine into the U.S. embassy in London. Charges against her and her husband were later dropped.
Her father-in-law, Hans Rausing, 86, is one of the world's wealthiest men, ranked 88th in the Forbes rich list with a fortune estimated at $10 billion. Based in Britain since quitting high-tax Sweden 30 years ago, he sold his interest in the private Tetra Pak business to his brother in the 1990s.
---