Massacre in Tremseh? Syrians deny it but evidence mounts
Death toll estimates of 200 in the village of Tremseh are not confirmed. But eyewitnesses say, and amateur videos show, an attack. Syrian officials blame 'terrorists.'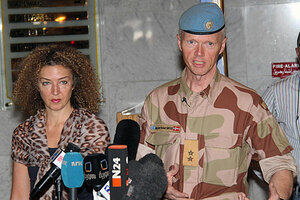 REUTERS
Anti-regime activists in Syria said Friday that government gunners rained shells on a poor, farming village before armed thugs moved in, leaving scores of people dead in what rebel backers claim is one of the worse single days of bloodshed in the uprising against Bashar Assad's regime.
The accounts — some of which claim more than 200 people were killed in the violence Thursday — could not be independently confirmed, but would mark the latest in a string of brutal offensives by Syrian forces attempting to crush the rebellion.
Much remains unclear about what happened in Tremseh in central Syria and why Assad's troops moved against the isolated village. Amateur videos showed the bodies of 17 people said to have been killed. Local activists, who gave the high death toll, could not provide lists of names, saying they were still being compiled.
RECOMMENDED: Briefing: Who are Syria's 5 warring factions?
But the violence was certain to raise even more doubts about the fraying peace efforts of international envoy Kofi Annan, who said he was "shocked and appalled" by the reports of the attack. He criticized the government for using heavy weaponry in populated areas, a violation of his struggling peace plan meant to end Syria's crisis.
One amateur video posted online late Thursday showed the dead bodies of 15 men lined up on a floor. Some are covered in blood and have wounds to their heads and chests. A second video shows a man's body lying on a hospital gurney.
Yet another video showed a young man wailing over the body of an elderly grey-haired man wrapped in a blanket and lying in the street.
"Come on, Dad. For the sake of God, get up," the man sobs. A boom is heard in the background.
---