Clinton: U.S. and Israel aim to 'build the pressure' on Iran
Both the U.S. and Israel are willing to do whatever is necessary to prevent Iran from obtaining nuclear weapons. U.S. Secretary of State Hillary Rodham Clinton says she'd prefer to use diplomacy. Economic sanctions are currently in place.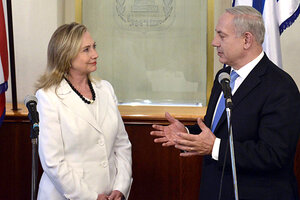 Brendan Smialowski/AP
U.S. Secretary of State Hillary Clinton said on Monday the United States and Israel were "on the same page" in their determination to prevent Iran from achieving what the West fears its goal of building a nuclear bomb.
In Jerusalem on the last stop of an Asian and Middle East tour, Clinton said she and Israeli Prime Minister Benjamin Netanyahu "talked about concrete steps that we can take to continue to build the pressure" on Tehran.
Israel is widely thought to be the only country in the Middle East with nuclear weapons capability and, citing threats made by Iran's leaders to destroy it, has made clear it would attack the Islamic Republic if diplomacy fails.
Iran denies Western accusations of a covert agenda to develop a nuclear weapon, insisting it wants to stockpile enriched uranium solely to generate more electricity for a rapidly growing population and radio isotopes for medical use.
Talks between world powers and Iran to resolve the standoff have so far failed to secure a breakthrough.
Clinton said that while Washington would prefer a diplomatic resolution to the impasse with Tehran: "Our own choice is clear, we will use all elements of American power to prevent Iran from obtaining a nuclear weapon."
---