With helicopter gunships, Syrian regime wins back parts of capital
Syria's rebels, meanwhile, launched an offensive to take Aleppo, a stronghold of the the Assad regime.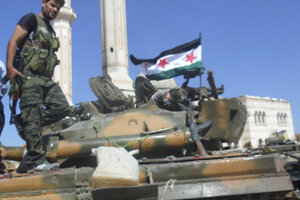 Reuters
Syrian rebels have launched an offensive to "liberate" the country's largest city of Aleppo, an opposition commander said Sunday, while in Damascus government troops backed by helicopter gunships wrested back control of rebel-held neighborhoods.
The opposition attack on Aleppo, Syria's commercial hub and traditionally a bedrock of support for President Bashar Assad, was a sign of the rebels' growing confidence and capabilities even as regime forces appeared close to regaining control of the capital Damascus after days of bloody street battles.
With Syria's civil war moving from the countryside and smaller cities into the country's two main urban centers, an activist group said the death toll had risen to more than 19,000 since the uprising began in March 2011. The Syrian Observatory for Human Rights also said July is shaping up to be the deadliest month of the conflict so far, with 2,752 people killed in the first three weeks.
The bloodshed has escalated as the rebels have taken the fight to the government with a week of fighting in Damascus, including a bombing that struck at Assad's inner circle, killing four senior regime officials. In a bid to seize the momentum, the opposition also has taken control of several border crossings with Iraq and Turkey.
Most recently, a video posted online by activists Sunday showed about a dozen gunmen standing in front of the Bab al-Salamah crossing on the Turkish frontier as they raised the Syrian opposition flag.
Gains, losses for both sides
Yet, in an indication of the see-saw nature of the conflict, even as the rebels seized one crossing, they abandoned another on the Iraqi border.
---