Indian soldiers patrol Assam state following deadly riots
Over 30 people have been killed in ethnic clashes between tribesmen and Muslims that started over the weekend in the northeast part of the country.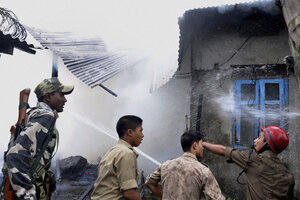 AP
Indian security forces patrolled deserted streets on Wednesday after days of ethnic riots in Assam state killed at least 36 people, forced tens of thousands to flee their razed homes and shut down road and rail transport.
The government deployed about 1,000 soldiers to restore calm after police struggled to quell waves of violence between Bodo tribespeople and Muslim settlers in the remote northeast of the country. The clashes first erupted at the weekend.
Gun battles between police and roving mobs of rioters armed with guns, machetes and sticks had continued overnight, despite police warnings that violators would be shot on sight if they broke a curfew. Police said at least one rioter was killed.
The violence appeared to have ebbed on Wednesday.
"Thankfully, things have calmed down quite a bit in the past 24-28 hours," an army spokesman said.
But safety fears left at least 30 passenger trains and 20 goods trains carrying grains and medicines stranded along a narrow corridor that connects the state to the rest of India on Wednesday. Three trains were able to move later in the day.
Some trains carrying tea and petroleum products - key economic resources in the state - were also stuck.
About 150,000 people had been displaced by the violence, although some have returned to their homes, Shambhu Singh, a joint secretary at India's federal home ministry, told reporters during a visit to Assam.
In one refugee camp, set up in a school, people feared more attacks and worried about shortages of essential supplies.
"Till now, no police official has visited our camp. There is no supply of food, no medicines. We don't even have enough fire wood for cooking," said 35-year-old Mohammad Aharan Sheikh, a farmer who sought shelter at the school along with his parents and young children.
Shops and businesses were shuttered and streets deserted in the violence-hit Kokrajhar district. Dozens of soldiers staged a march on the outskirts of the main district town, also called Kokrajhar, to try to instil confidence among locals.
---