Syrian government pounds rebels in Aleppo, a city of millions
The Syrian military launched tank shells and artillery Sunday into parts of the country's largest city. Rebels control up to half the city's neighborhoods.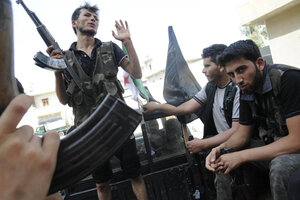 Alberto Prieto/AP
Syrian troops fired tank shells and artillery Sunday at neighborhoods in Aleppo as rebels tried to repel a government ground assault against their positions in Syria's largest city, activists said.
The bombardment was part of a government counter-offensive to retake control of districts that had fallen into rebel hands last week at the beginning of their bid to capture Aleppo, the nation's commercial hub.
Activists said the shelling was most intense in the southwestern neighborhoods of Salaheddine and parts of Saif al-Dawla, some of the first areas seized by the rebels when they started the push last week after being routed in a similar attack against the capital Damascus.
The battle for control of Aleppo, once a bastion of support for President Bashar Assad's regime, is critical for both the regime and the opposition. Its fall would be a major blow to the regime's morale and a realization of the opposition's crucial and strategic goal to establish a stronghold in northern Syria.
The government pledged to continue fighting and said security agents were hunting down armed groups in several areas of Aleppo including Saleheddine, inflicting heavy losses upon the "terrorists" — the term authorities use to describe Syrian rebels.
SANA quoted an Aleppo official as saying that troops would continue until the city is "purged" of armed groups and peace and tranquility is restored to its residents.
---