Massive India blackout leaves 370 million hot and bothered
India's worst blackout in a decade shut down businesses Monday, halted trains, and left 370 million people without air conditioning or light.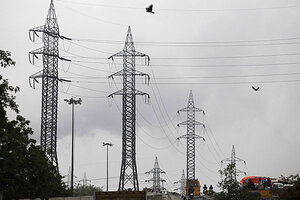 (AP Photo/Altaf Qadri)
Northern India's power grid crashed Monday, halting hundreds of trains, forcing hospitals and airports to use backup generators and leaving 370 million people — more than the population of the United States and Canada combined — sweltering in the summer heat.
The blackout, the worst to hit India in a decade, highlighted the nation's inability to feed a growing hunger for energy as it strives to become a regional economic power.
Some small businesses were forced to shut for the day. Buildings were without water because the pumps weren't working. Muslim families were forced to eat their pre-dawn meals by candlelight before beginning their daytime Ramadan fast. "It was really difficult," said farmer Mohammed Zaman.
RECOMMENDED: How well do you know Asia? Take the quiz
The northern grid crashed about 2:30 a.m. because it could no longer keep up with the huge demand for power in the hot summer, officials in the state of Uttar Pradesh said. However, Power Minister Sushil Kumar Shinde said he was not sure exactly what caused the collapse and had formed a committee to investigate it.
The grid feeds the nation's breadbasket in Punjab, the war-wracked region of Kashmir, the burgeoning capital of New Delhi, the Dalai Lama's Himalayan headquarters in Dharmsala and the world's most populous state, the poverty stricken Uttar Pradesh.
---