Sudan allows aid into border areas after oil deal struck with South Sudan
The border areas are facing an impending famine. An oil transit fee deal between Sudan and South Sudan is a move toward ending conflict between the two nations.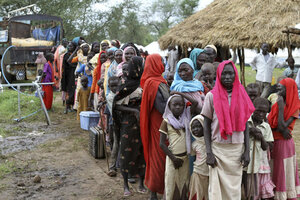 Margaret Aguirre/Reuters
Sudan agreed on Sunday to allow aid into two rebel-held southern border states where humanitarian groups say fighting has left civilians facing an impending famine.
The move came a day after Sudan reached a deal with South Sudan over oil transit fees, a first step to ending a dispute which had brought the hostile neighbors close to war in April.
Both countries still need to mark their disputed frontier and improve security in the violent borderland, one of several issues left over when South Sudan seceded a year ago under a 2005 agreement that ended decades of civil war.
The African Union said it had brokered the deal between Sudan and rebels of the Sudan People's Liberation Movement-North (SPLM-North) to allow aid into rebel-controlled areas in the border states of South Kordofan and Blue Nile.
Famine warnings
According to the United Nations, almost half a million people have been displaced from fighting between the SPLM-North and the army in the two states, which border South Sudan. The United States and aid groups have warned of famine.
Sudan has agreed on a limited ceasefire in some rebel-held areas as a first step to allow aid in, said Kamal Obeid, head of the Sudanese delegation at the talks in Addis Ababa.
He gave no details but said aid would be distributed only under strict Sudanese supervision with security forces having the right to search shipments and approve staff delivering it.
Obeid told reporters Khartoum would hold more talks with the SPLM-North after the Muslim fasting month of Ramadan but doubted they wanted to end fighting.
---