4 Chinese police officers on trial for helping Bo Xilai's wife
One day after Gu Kailai did not contest murder charges against her, a quartet of senior police officers are facing charges of assisting Gu to cover up the homicide.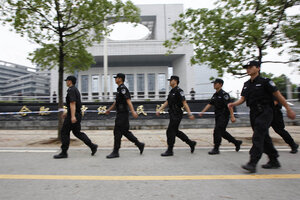 Aly Song/REUTERS
Four senior Chinese police officers went on trial Friday on accusations they helped the wife of one of the country's highest-profile politicians cover up the murder of a British businessman in a scandal that has shaken the highest levels of leadership.
The case was heard in the same court in eastern China's Anhui province where the murder case against Gu Kailai finished in less than a day Thursday. Hefei Intermediate People's Court clerk Zhang Li confirmed the officers' trial was being held but gave no details.
Gu, the wife of Bo Xilai, the disgraced former Communist Party boss of the western city of Chongqing, did not contest the charges against her, court officials said. The verdict against her and a family aide also charged with murder was expected soon. A guilty verdict is all but assured and carries the potential punishment of 10 years in prison up to a death sentence.
The four Chongqing officers are accused of helping Gu cover up her actions during an investigation into business associate Neil Heywood's death last November, the official Xinhua News Agency said. It named them as Guo Weiguo, a former deputy chief of Chongqing's Public Security Bureau, Li Yang, Wang Pengfei and Wang Zhi.
Gu's arrest and the ouster of her husband as Chongqing party chief in March sparked the biggest political turbulence in China since the putdown of the Tiananmen Square protests in 1989. The tightly orchestrated trials this week are a step toward resolving the scandal ahead of the party's once-in-a-decade leadership transition this fall.
---