Mexico wins gold in soccer final against Brazil
Mexico won its first gold after a very early goal that Brazil was never able to overcome.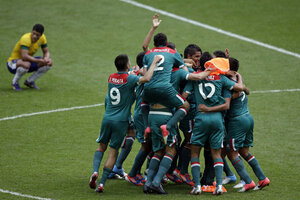 Andrew Medichini/AP
With a goal in 29 seconds, Mexico extended Brazil's wait for a first Olympic soccer gold for at least another four years.
Oribe Peralta stunned the Brazilians by scoring as some fans were still making it to their seats for the final at Wembley Stadium on Saturday. The heavily-favored South Americans never recovered, losing 2-1 after a late comeback attempt came up just short.
"I don't know if this was the best match of my career, but what I do know is that this is the most important, because I am here today with a gold medal," Peralta said. "I dreamed about this moment. It is one of those things you don't get to live every day."
IN PICTURES: Week 2 of the Olympics
The surprising result left Mexico celebrating its first Olympic gold in men's soccer — and Brazil wondering if it will ever add the elusive title to its long list of triumphs in soccer.
"Yet again we came close, but didn't quite get it," Brazil coach Mano Menezes said.
Peralta took advantage of a mistake by the Brazilian defense in the opening minute and slotted a low right-foot shot just inside the near post. It was the fastest Olympic goal since FIFA began keeping record of the competition in 1976.
The striker added the second with a firm header from a free kick in the 75th.
Hulk scored for Brazil in injury time, but Oscar missed a header in the final seconds to waste the last chance for a comeback.
---