Syrian fighter jet crashes: debate over shoot down or technical failure
There are conflicting accounts from the two sides in the Syrian conflict over the crash of a fighter jet Monday in eastern Syria.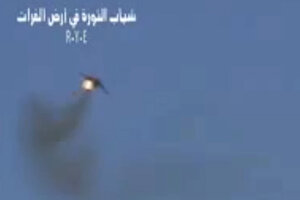 R.Y.E. Syria/AP
Syrian state-run media said Monday a pilot ejected from a warplane after a technical failure while rebels claimed they shot it down over an eastern province where the opposition has a strong presence.
Earlier Monday, activists released a video which they claimed shows a government Soviet-made MiG warplane catching fire after it apparently was hit by ground fire over Deir el-Zour province. The warplane appears to be spiral into a ball of flames. It was impossible to independently verify the video.
SANA news agency said the plane was on a training mission when a "technical failure occurred" and the pilot had to eject. It added that a search was under way to find the pilot.
If the rebels indeed managed to shoot down a fighter jet, it would mark a major leap forward in their military capabilities as well as a big blow to the regime, which started using its air force intensively in the civil war over the past weeks.
The Britain-based activist group Syrian Observatory for Human Rights said the plane was hit as it was conducting air raids on the town of Muhassan. The group quoted activists in the area as saying the plane was hit with fire from a heavy machine gun used by rebels in the area.
Observatory Director Rami Abdul-Rahman said he was told by locals that the rebels captured the pilot, a colonel, alive.
Theodore Karasik, a regional security expert at the Dubai-based Institute for Near East and Gulf Military Analysis, said the rebel claim — if true — would suggest a stepped-up flow of outside military assistance. Older anti-aircraft weapons, possibly looted from Syrian arsenals such as variations on the Soviet-era SA-7, are considered overmatched by later model MiGs in the Syrian air force.
"If this is true, the conjecture would be that covert aid to the rebels is expanding with higher-grade anti-aircraft capabilities," he said.
---