Ecuador to decide about Assange asylum this week
The WikiLeaks founder, who faces sex crime allegations in Sweden, hopes to be granted political asylum in Ecuador. President Rafael Correa says he sympathizes with Assange, but also feels respect for the British legal system.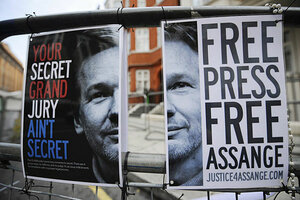 Ki Price/Reuters
Ecuador is likely to announce a decision on whether to grant political asylum to WikiLeaks founder Julian Assange before the end of the week in a case with diplomatic implications around the world, President Rafael Correa said on Monday.
Assange has been taking refuge in the Ecuadorean Embassy in London since June 19 to avoid extradition to Sweden, where he is wanted for questioning on sex crime allegations.
Life at risk
The former computer hacker, who enraged Washington in 2010 when his WikiLeaks website published thousands of secret U.S. diplomatic cables, says he fears he could be sent to the United States, where he believes his life would be at risk.
"We have to review the process in Sweden," Correa said in a television interview. "We have to look at the possibility that he may be extradited to the United States, that there may be a secret court there, that he may face the death penalty.
"We expect to have a meeting on Wednesday (with Foreign Minister Ricardo Patino) and I hope to make an announcement before the end of the week."
Leftist leader Correa said he sympathizes with Assange but also feels respect for the British legal system and for international law. He said his government already has gathered enough information to take a responsible decision.
Neither U.S. nor Swedish authorities have charged Assange with anything. Swedish prosecutors want to question him about allegations of rape and sexual assault made by two WikiLeaks supporters in 2010. Assange says he had consensual sex with the women.
---