Israeli PM appoints new homeland security minister
Benjamin Netanyahu says the mission of Israel's new Cabinet minister is to 'contribute to the security of the country.' Avi Dichter, now in charge of civil defense, comes from the country's secretive internal security department.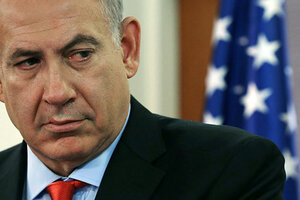 Mark Wilson/AP
Israel's prime minister on Tuesday appointed a former internal security chief as his Cabinet minister in charge of civil defense, reflecting the serious concerns about a potential retaliatory strike if Israel decides to attack Iran's nuclear installations.
Israel and the West believe Iran is aiming to develop nuclear weapons, a scenario that Israel considers to be a threat to its existence. Recent comments attributed to Israeli leaders have raised speculation that Israel is preparing to attack. Such a strike would almost certainly draw Iranian missile fire toward Israeli population centers.
Head of security service
Avi Dichter, who headed the Shin Bet internal security service a decade ago, replaces Matan Vilnai, a former deputy military chief of staff who has been responsible for civil defense for the past five years. Vilnai stepped down to become Israel's new envoy to China.
Prime Minister Benjamin Netanyahu had considered former generals for the post before offering it to Dichter. Israel's "home front command" was harshly criticized for poor readiness during the country's 2006 war, when the Lebanese Hezbollah fired about 4,000 rockets at Israel. Authorities have been working to improve a nationwide system of air-raid sirens, shelters and other emergency services.
Dichter previously served as minister of internal security after decades in Israel's secretive Shin Bet.
"He is now charged with a very important mission: to continue doing what he has been doing his whole life - contributing to the security of the country," Netanyahu said.
---