Airstrikes kills over 40 in northern Syria, watchdog group says
According to Human Rights Watch, the attacks destroyed a whole residential block in the town of Azaz. Free Syrian Army facilities might have been the target of the Syrian air force.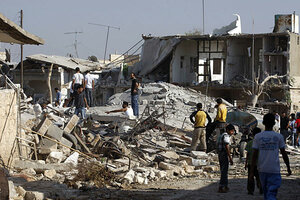 Khalil Hamra/AP
Syrian government airstrikes on a residential neighborhood in a rebel-held town killed over 40 people and wounded at least 100 others including many women and children, international watchdog Human Rights Watch said Thursday.
The strikes on the town of Azaz in northern Syria a day earlier leveled the better part of a poor neighborhood and sent panicked civilians fleeing for cover. So many were wounded that the local hospital locked its doors, directing residents to drive their injured to the nearby Turkish border for treatment on the other side.
Sense of control
The bombardment appeared aimed at rattling the sense of control that rebels have sought to project over the northwestern corner of Syria near the Turkish border since they drove President Bashar Assad's army from the area last month.
Reporters from The Associated Press saw nine bodies in the bombings' immediate aftermath, including a baby.
Human Rights Watch, which investigated the site of the bombing two hours after the attack, put the number at over 40.
"This horrific attack killed and wounded scores of civilians and destroyed a whole residential block," said Anna Neistat, the group's acting emergencies director. "Yet again, Syrian government forces attacked with callous disregard for civilian life."
HRW said two opposition Free Syrian Army facilities in the vicinity might have been targets of the Syrian aircraft.
Home to 35,000 people
One was the headquarters of the local Free Syrian Army brigade two streets away from the block that was hit. The other was a detention facility where the Free Syrian Army held "security detainees" — government military personnel and members of pro-government shabiha militia. Neither of these facilities was damaged in the attack.
---