Dip diplomacy: Japanese activists swim to disputed islands, raise flag
Days earlier, Chinese activists swam to the disputed but uninhabited islands, known in Japan as the Senkaku Islands and in China as the Diaoyu Islands.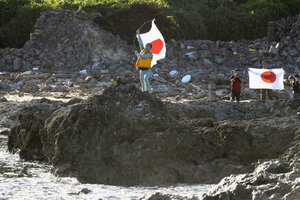 AP Photo
Japan's territorial disputes with its neighbors flared anew Sunday as a group of nationalist activists swam ashore and raised flags on an island also claimed by China.
Chinese took to the streets in protest, overturning Japanese-branded cars and smashing windows at some Japanese-owned businesses, as Beijing lodged a formal complaint, urging Tokyo to prevent frictions from escalating further.
Ten Japanese made an unauthorized landing on Uotsuri, the largest in a small archipelago known in Japan as the Senkaku Islands and in China as the Diaoyu Islands. The uninhabited islands surrounded by rich fishing grounds are controlled by Japan but also claimed by China and Taiwan.
Of the 10 who visited the island, five were conservative local assembly members.
"The Senkakus are undoubtedly Japanese territory. It is to be expected that Japanese would take that to heart," said Eiji Kosaka, an assemblyman from Tokyo's Arakawa district.
China's Foreign Ministry protested, summoning Japan's ambassador to voice its complaints.
"The Japanese side should properly handle the current issue and avoid seriously damaging the overall situation of China-Japan relations," ministry spokesman Qin Gang said in a statement.
Tokyo rejected a complaint by China's ambassador to Japan, Cheng Yonghua, according to Japan's Foreign Ministry.
---