Detained Chinese activists return by boat from Japan
The activists arrived in Hong Kong but that isn't likely to end the crisis over the disputed islands. Japan says it will prosecute any Chinese who land on the islands that may be near gas deposits.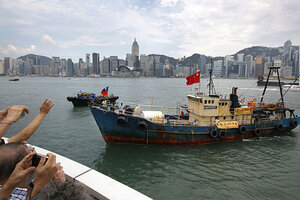 Vincent Yu/AP
Hong Kong gave a hero's welcome home Wednesday to activists who landed on disputed islands and whose video of their scuffles with Japanese police will likely aggravate nationalist tensions further.
The seven activists were part of a 14-person group that managed to evade the Japanese Coast Guard in a rusty fishing boat to reach the islands a week ago. The group included two reporters from Phoenix TV, which broadcast video for the first time of the activists' desperate confrontation with Japanese officers as they landed on the barren islands.
Rich fishing grounds
Known as Senkaku in Japan and Diaoyu in China, the islands are surrounded by rich fishing grounds and may also be near underwater natural gas deposits. They're controlled by Japan but also claimed by China and Taiwan.
In the video, six of the activists are seen clambering over the rocky shoreline. The group wades ashore, advancing toward several dozen Japanese police officers wearing riot gear. One of them waves China's national flag as the officers watch. But as they try to go further, the police block the way. Two of them make a run for it but are tackled by the officers.
---