Russia: West is 'openly instigating' Syrian civil war
In a statement on Wednesday, Russian officials accused Western powers of doing nothing to end the conflict in Syria, saying they were instead instigating it.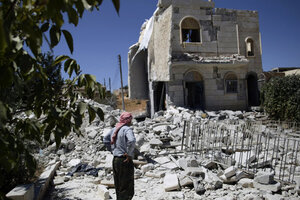 Muhammed Muheisen
Russia accused Western powers Wednesday of "openly instigating" Syrian opposition groups to take up arms in their fight to unseat President Bashar Assad.
Moscow has been Syria's key protector throughout the 17-month uprising that has evolved into a full-blown civil war, shielding Assad's regime from international sanctions and providing it with weapons despite an international outcry.
Russia's Foreign Ministry said the West "has done nothing" to urge the Syrian opposition to start a dialogue with the government.
"Instead, they are engaged in openly instigating it to continue their armed struggle," it said in a statement.
It claimed that the Western approach to the Syrian civil war is "hypocritical" and is not helping to resolve the conflict that has killed an estimated 19,000 people.
Russia and China, both veto-wielding U.N. Security Council members, have blocked proposals to call on Assad to step down.
Russia has said that its opposition to sanctions against Syria is driven not by support for Assad himself, but by a respect for international law that forbids foreign military intervention in internal conflicts without U.N. Security Council authorization.
Russia has called for talks between the Syrian regime and its foes. It staunchly opposes any plans that would demand Assad's ouster, saying that only the Syrian people can decide the country's fate.
---