Syrian conflict spills over into Lebanon, killing two
On Friday, fighting between supporters of the Assad regime and the Syrian opposition took place in the northern part of the country.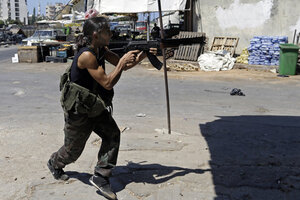 Hussein Malla/AP
Fresh clashes broke out Friday in northern Lebanon between supporters and opponents of the Syrian regime, killing two people and wounding 17 others, Lebanese security officials said.
The fighting in the port city of Tripoli was the latest instance of the Syrian civil war causing unrest next door in Lebanon, a country long under Syrian influence.
In Syria itself, fighting raged Friday between government forces and rebels close to the capital.
The British-based Observatory for Human Rights said troops pursued rebels in the town of Daraya, just south of Damascus, the scene of heavy fighting over the last two days. Fifteen people died Friday, most of them from injuries suffered in battles the day before, said the group, which relies on a network of activists on the ground.
Residents of Damascus reporting hearing loud explosions as shells fired from the Qasioun mountains overlooking the capital slammed into Daraya and the nearby suburb of Moadimiyeh.
Human rights groups say more than 20,000 people have died since the Syrian uprising against President Bashar Assad erupted in March 2011.
---