UN tries again to access suspected Iranian nuclear site
It is yet another attempt to get around Tehran's atomic activities. But Iran has a long-standing refusal to cooperate, so fears are growing that tensions could spill over into armed conflict.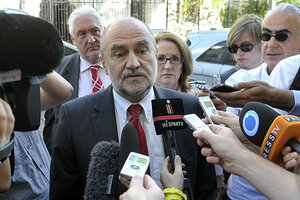 Hans Punz/AP
Amid low expectations of success, U.N. nuclear agency officials pushed anew on Friday for access to an Iranian site they suspect was used to work on nuclear arms and cooperation by Tehran on a wider probe of alleged experiments meant to develop such weapons.
Going into the meeting with officials of the International Atomic Energy Agency, Iranian envoy Ali Asghar Soltanieh told reporters both sides were trying to bridge disagreements, adding: "I hope for success." Senior IAEA official Herman Nackaerts was more circumspect, saying only "his team sought agreement on resolving "all the outstanding issues" — terminology the agency uses for suspected nuclear weapons research and development by Iran.
Teheran denies any interest
The Islamic Republic vehemently denies any interest in such weapons and says all its atomic activities are peaceful. But its long-standing refusal to cooperate with IAEA experts seeking to investigate the allegations fuel suspicions it may have something to hide. Tehran also refuses to give up uranium enrichment — which can make both reactor fuel and arm nuclear missile — despite offers of such fuel from abroad, adding to such suspicions.
With both the agency and international diplomatic efforts stalemated in attempts to engage the Islamic Republic on its nuclear program, fears are growing that tensions could spill over into armed conflict.
---