Germany says 'time is money,' and additonal funds for Greece aren't an option
Germany's economic minister said Greece needed to stick to their time table for bailout reforms. Greece has asked for 'time to breathe' before making budget cuts and economic reforms.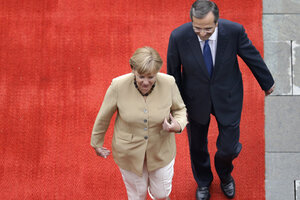 Michael Sohn/AP
Germany's economy minister has rejected calls for Greece to get more time to implement economic reforms, saying in an interview Sunday that Athens needs to respect the bailout deal reached with its international creditors.
Philipp Roesler's comments to ZDF public television come after a visit by Greece's prime minister to Berlin on Friday, during which Antonis Samaras told German Chancellor Angela Merkel that his country needs "time to breathe" before it can make all the budget cuts and reforms demanded as part of its €240 billion ($300 billion) bailout packages.
"What the Greeks have asked for, half a year or two years, that's not doable," said Roesler, who is also the vice chancellor in Angela Merkel's coalition government.
He added that "time is always money" and all parties had agreed that additional funds for Greece weren't up for debate.
Roesler, the leader of Germany's pro-business Free Democratic Party, has long taken a hard line on Greece. Last month, he caused an outcry in Greece by suggesting the idea of the country leaving the 17-nation eurozone had "lost its horror."
Those comments appeared to put him at odds with Merkel, who has always insisted that Greece should remain in the euro.
But his latest views on the need for Greece to stick to the agreed time plan for reforms were echoed by German Finance Minister Wolfgang Schaeuble, who told a newspaper in comments published Sunday that "more time generally means more money and that quickly means a new (bailout) program."
---