Two Pussy Riot members flee Russia
The Pussy Riot group says two of their members have fled the country. Russian police were searching for other members of the band after sentencing three to two years in prison for staging a 'punk prayer.'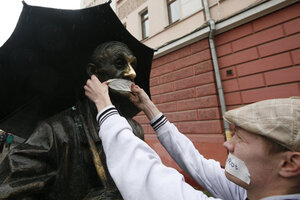 Ilya Naymushin/Reuters
Two members of Russia's anti-Kremlin punk band Pussy Riot have fled the country to avoid prosecution for staging a protest against President Vladimir Putin at a church altar, the band said on Sunday.
A Moscow court sentenced three members of the all-female opposition band to two years in prison on Aug. 17 for staging a "punk prayer" at the Christ the Saviour Cathedral in February and calling on the Virgin Mary to rid Russia of Putin.
The sentence drew sharp international criticism of the Russian government, while opposition groups at home have portrayed it as part of a Kremlin clampdown on dissent.
Police said earlier this week they were searching for other members of the band.
"In regard to the pursuit, two of our members have successfully fled the country! They are recruiting foreign feminists to prepare new actions!," a Twitter account called Pussy Riot Group said.
---