Did Taliban behead 17 people for dancing? Maybe not.
Initial reports said 17 people were beheaded by the Taliban for dancing and singing. Taliban leaders fighting over two women triggered the killings, says a provincial official.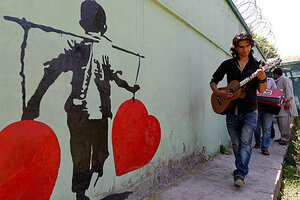 REUTERS/Omar Sobhani
Insurgents attacked a large party in a Taliban-controlled area of southern Afghanistan and beheaded 17 people, officials said on Monday.
The head of the local government initially said the victims were civilians at a celebration late Sunday involving music and dancing in the Musa Qala district of Helmand province. The official, Neyamatullah Khan, said the Taliban killed the party-goers for flouting the extreme brand of Islam embraced by the militants.
But a provincial government official said later that those killed were caught up in a fight between two Taliban commanders over two women, who were among the dead. Daoud Ahmadi, a spokesman for the provincial government, said shooting broke out during the fight. He said it was unclear whether the music and dancing triggered the violence and whether the dead were all civilians or possibly included some fighters.
RECOMMENDED: How well do you know Afghanistan? Take the quiz
Ahmadi said all of the bodies were decapitated but it was not clear if they had been shot first.
In other violence, two American soldiers were shot and killed by one of their Afghan colleagues in the east, military officials said. Afghan officials said the killings appeared to be accidental, however NATO would not comment on the question of whether the killings were intentional or accidental.
---