Roman Abramovich prevails in Russian oligarch court battle
A London judge ruled in favor of Abramovich over fellow Russian tycoon Boris Berezovsky in a court battle that dealt with their personal and business relationship.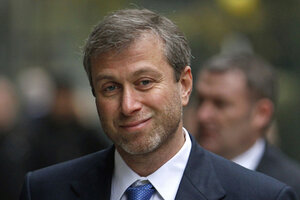 Andrew Winning/REUTERS/File
Self-exiled tycoon Boris Berezovsky lost his multibillion-dollar legal battle against fellow Russian mogul Roman Abramovich on Friday after a British judge ruled that he didn't tell the truth in the clash over vast oil wealth.
The case in London's High Court sparked broad interest because of its focus on the two oligarchs' personal and business relationship in the chaotic days of post-Soviet Russia. The weeks of testimony included juicy details about their jet-set lifestyles that included yachts, luxury vacations and high-roller spending.
The 64-year-old Berezovsky, a former Kremlin power broker who fell out with Russian President Vladimir Putin, alleged that Abramovich had betrayed and intimidated him into selling his stakes in the Russian oil company Sibneft vastly beneath their true value. Berezovsky had sought more than 3 billion pounds ($4.8 billion) in damages.
Abramovich had denied the charges.
On Friday, Judge Elizabeth Gloster scathingly dismissed Berezovsky's case, calling him "an unimpressive, and inherently unreliable, witness, who regarded truth as a transitory, flexible concept, which could be molded to suit his current purposes."
"I regret to say that the bottom line of my analysis of Mr. Berezovsky's credibility is that he would have said almost anything to support his case," Gloster said in a 38-page summary of her judgment.
---