Red Cross chief will request Assad's help with Syria's humanitarian crisis
The Red Cross head is traveling to Syria to request that President Bashar al-Assad make it easier for humanitarian workers to reach civilians facing deteriorating living conditions.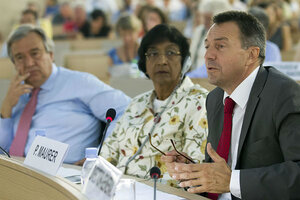 AP Photo/Keystone, Salvatore Di Nolfi
The new head of the Red Cross will urge Syrian President Bashar al-Assad to improve humanitarian access to civilians in the war-torn country during a visit to Syria that begins on Monday, the aid agency said.
Peter Maurer said he would also continue efforts to gain access for his agency to Syria's detention centers – which rights groups say hold tens of thousands of people rounded up during the 17-month-old conflict, including teenagers.
---