Drug trafficking dampens Colombia, FARC peace talks
For the fourth time in three decades, the Colombian government is attempting to to reach a peace agreement with the Revolutionary Armed Forces of Colombia or FARC. But questions of the FARC's leadership's involvement in drug trafficking could spoil the talks.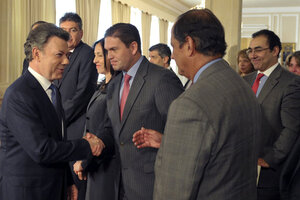 Javier Casella/Colombia's Presidential Office/AP
The image is seared in Colombian minds: The country's president sits on a big stage looking glum, hands folded in his lap, next to an empty chair.
It is January 1999. At the inauguration of peace talks, the founding leader of the Western Hemisphere's biggest leftist rebel army has snubbed President Andres Pastrana.
Cursed, the peace talks drag on for three years in a safe haven the size of Switzerland that the government has ceded to the Revolutionary Armed Forces of Colombia, or FARC, which wages war elsewhere, kidnaps and extorts unabated and expands its cocaine business.
Ten years later, in a wealthier, far more stable Colombia, a different president is giving peace yet another chance.
"Any responsible leader knows he can't let pass up a possibility like this to end the conflict," President Juan Manuel Santos told the nation Tuesday in announcing an accord with the peasant-based FARC to seek "a definitive peace."
An hour later, by pre-arrangement, the FARC's commander, Timoleon Jimenez, announced the rebels' participation in a videotape played in Havana.
The talks will be the fourth attempt in three decades to end the hemisphere's longest-running conflict.
The preliminary accord, signed Aug. 27 after six months of secret exploratory talks in Cuba, calls for talks to begin in Norway in the first half of October, then return to Havana.
Several days of talks will be held in Oslo, an exact date has not been set, before they move to Cuba a few weeks later, a senior Colombian official said Wednesday, speaking on condition he not be further identified due to the subject's sensitivity.
The government negotiating team, announced by Santos on Wednesday, will include the two men who led the preliminary talks, national security adviser Sergio Jaramillio and former peace commissioner Frank Pearl.
Also named to it are former Interior Minister Humberto de la Calle, widely respected former national police director Oscar Naranjo, former armed forces chief Jorge Enrique Mora and Luis Carlos Villegas, president of Colombia's main business group.
After taking office in mid-2010, the 61-year-old Santos said the FARC, badly weakened by a decade-long US-fortified military buildup, would need to seriously curtail hostilities if its peace overtures were to be taken seriously.
---