Europe's financial crisis: Waiting for ECB to ride to the rescue
European Central Bank president Mario Draghi will lay out a plan Thursday on how the continental bank will address current fiscal issues.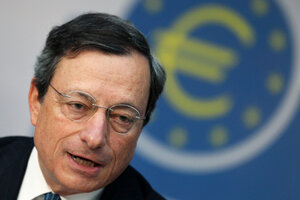 Michael Probst/AP/File
European Central bank President Mario Draghi gets another chance Thursday to spell out how the bank intends to rescue the 17 countries that use the euro from financial disaster.
Expectations have been high since late July when the ECB head vowed to do "whatever it takes" to hold the eurozone together. The following week, on Aug. 2, Draghi announced the broad outlines of a plan to buy government bonds to help out eurozone countries struggling to manage their debt.
Until then, countries such as Spain and Italy had seen their borrowing costs — reflected in the interest rates on bonds they sell — rise to unmanageable levels. Investors were worried the two countries could soon get to a point where they couldn't afford to handle their finances and be pushed into asking for a bailout.
That has already happened three times in the eurozone — with Greece, Ireland and Portugal. The worry is that Spain and Italy are too big to bail out. If those countries fail to pay their debts on time, it could spark a financial crisis that could see the eurozone break up, spreading turmoil throughout the global economy.
Analysts say Draghi's comments Thursday are likely to be constrained by the fact that the ECB is still working on its plans. The ECB chief has to strike a delicate balance: promise and reveal enough to keep markets happy, while nudging Europe's politicians to do more.
Here is a look at what Draghi and the ECB have been working on and what to look out for on Thursday:
—BOND-BUYING STRATEGIES:
By buying bonds on the open market, the ECB can drive up the prices for a country's bonds. That brings down their interest rate — or yield — and makes it less expensive for countries to borrow money. The ECB theoretically has no limit on the money it can use for its bond-buying plan. As a central bank, it can "print money" to pay for the bonds by simply adding to banks' reserve accounts.
How much it spends on bonds sends a message to the markets. Too much and it could be criticized for violating the EU treaty provision that forbids it from financing governments directly. Too little and investors think that ECB is only half-heartedly attempting to solve the eurozone's problems. A previous bond-buying program started in May 2010 piled up over €210 billion ($264.16 billion) but was too limited to decisively lower yields.
---