Fugitive Iraqi vice president sentenced to death
Tariq al-Hashemi, Iraq's vice president, was found guilty of masterminding the killings of a lawyer and a government security official. He was sentenced to death Sunday. The case has increased Sunni-Shiites tensions, as some accuse the Shiite-led government of monopolizing power. Al-Hashemi is Sunni.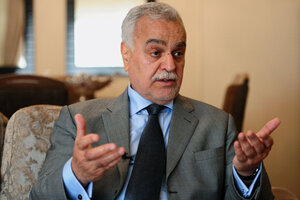 AP Photo/File
Iraq's fugitive Sunni vice president was sentenced to death Sunday after a Baghdad court found him guilty of masterminding the killings of a lawyer and a government security official.
Tariq al-Hashemi, who has denied the allegations, fled the country after Iraq's Shiite-led government leveled the terror charges against him in December. The politically charged case sparked a crisis in Iraq's government and has fueled Sunni Muslim and Kurdish resentment against Prime Minister Nouri al-Maliki, a Shiite who critics say is monopolizing power.
The Baghdad courtroom was silent Sunday as the presiding judge read out the verdict convicting al-Hashemi and his son-in-law of organizing the murders of a Shiite security official as well as lawyer who had refused to help the vice president's allies in terror cases.
The court sentenced both men to death by hanging in absentia. They have 30 days to appeal the verdict.
The judge said al-Hashemi, who is currently in Turkey, was acquitted in a third case linked to the killing of a security officer due to a lack of evidence.
The case has fueled resentment among Iraq's Sunni minority, and al-Hashemi himself has dismissed the charges against him as a political vendetta pursued by his longtime rival, al-Maliki.
Sunday's closing session of the trial provided a window into the politically charged nature of the case.
The defense team began its closing statement with a searing indictment of the judicial system, accusing it of losing its independence and siding with the Shiite-led government.
---