Death toll rises to 30 in Aleppo car bombing
The blast, in Syria's largest city, occurred near two hospitals. Some reports say both military personnel and civilians are among the victims.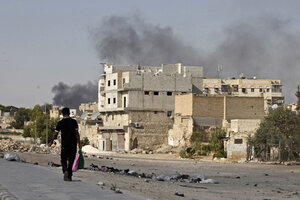 Zain Karam/REUTERS
The death toll from a car bomb in Syria's largest city has risen to 30, state media said Monday, as the new international envoy to the country said the Syrian people are desperate to see peace and stability.
The Sunday night blast ripped through the northern city of Aleppo, which has become one of the main battlegrounds of the country's civil war. Activists say at least 23,000 people have been killed since the conflict erupted in March 2011.
On Monday, the new UN-Arab League envoy, Lakhdar Brahimi, said he will travel to Syria this week to meet with regime officials as well as civil society.
"I answer to no one except the Syrian people," Brahimi told reporters in Cairo, where he was meeting with Arab League officials and Egyptian President Mohammed Morsi. "Syrians aspire to peace, stability and to realizing their goals of freedom and political progress."
Brahimi, who is tasked with brokering a diplomatic solution to the conflict, replaced former UN Secretary-General Kofi Annan, who stepped down in August in frustration after his six-point peace plan collapsed.
---