Violence erupts in Venezuela when challenger campaigns in Chavez stronghold
A large crowd of supporters of Venezuelan President Hugo Chavez turned violent when opposition candidate Henrique Capriles campaigned in a Chavez-leaning area.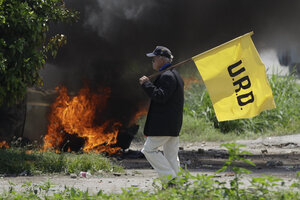 Ariana Cubillos/AP
Puerto Cabello, Venezuela
Violence erupted at an opposition campaign event in Venezuela on Wednesday as supporters of President Hugo Chavez blocked a road and a campaign truck was torched. Both sides hurled rocks, and police said at least 14 people were hurt.
A large crowd of Chavez supporters in red shirts blocked a main road near the airport in the coastal town of Puerto Cabello before a visit by opposition candidate Henrique Capriles. A truck used by Capriles' campaign was set ablaze, and a motorcycle was also torched.
Capriles had been scheduled to visit an area that has traditionally leaned pro-Chavez, and opposition supporters were seen running to take cover during the violence.
At least 14 people suffered cuts and other minor injuries, police in Carabobo state said.
After the violence, Capriles spoke at an outdoor rally in the town, blaming Chavez and small "radical groups."
"Those actions aren't spontaneous. There's someone responsible for those actions," Capriles told the crowd. Addressing Chavez without mentioning the president's name, Capriles said: "It's you who wants that scenario. It's you who wants to sow fear."
"We know that he who turns to violence, it's that he's afraid of the other's ideas," Capriles added. "We're tired of violence."
His supporters chanted, "We aren't afraid!" Capriles had been on his way to the event when the clashes erupted, and to bypass the blocked road he traveled by helicopter to a spot where fishermen took him by a motorboat to the area.
Chavez has recently said his rival has a hidden agenda to impose right-wing measures "that would lead Venezuela to a civil war." But Chavez has denied intending that as a threat or trying to promote violence in any way.
During the melee, some of the red-shirted government supporters went into the airport compound and carried away speakers and a generator.
---