Aung San Suu Kyi to meet with Obama
Myanmar democracy activist, Aung San Suu Kyi, one of the world's most prominent political prisoners of the past two decades, is scheduled to meet Wednesday with President Obama, and will be presented with a Congressional Gold Medal.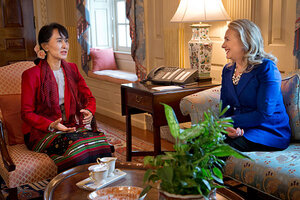 Evan Vucci/AP
Myanmar democracy leader Aung San Suu Kyi meets Wednesday with President Barack Obama and will be presented with Congress' highest award, signs of Washington's deep admiration for one of the world's most famous political dissidents.
But the Obama administration was careful to balance the praise for the Nobel laureate with recognition for the reformist former military leader she is working with as the country also known as Burma embarks on democratic change. Treasury announced it was taking President Thein Sein and a top aide off its list of sanctioned individuals.
Suu Kyi is on a 17-day trip to the U.S. She spent 15 years under house arrest for opposing military rule. Obama will meet privately with Suu Kyi at the White House.
White House spokesman Jay Carney said Obama was looking forward very much to the visit, "as it provides another opportunity to reaffirm our long-standing support for her struggle and the struggle of many others toward democratic, just and transparent governance in Burma."
---