Imelda Marcos shoe collection now worthless, says Philippines government
Imelda Marcos left behind at least 1,220 pairs of shoes, along with a vast collection of clothes and accessories, when she fled with her husband, President Ferdinand Marcos, during a 1986 uprising.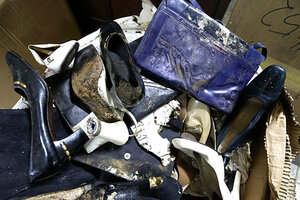 Bullit Marquez/AP
A Philippine official said Monday that a legendary collection of shoes and other possessions left behind by former first lady Imelda Marcos and her dictator husband when they were ousted by a 1986 "people power" revolt have no historical significance, except for some Philippine-made gowns.
Communications Undersecretary Manolo Quezon issued the statement after National Museum officials acknowledged that the collection of Marcos' clothes and shoes had been neglected for more than two decades and some had been damaged by a monsoon storm last month.
Museum officials told The Associated Press on Sunday that termites, storms and neglect damaged part of Mrs. Marcos' collection of at least 1,220 pairs of shoes and other items while they were stored from 1986 to 2010 at the Malacanang presidential palace and later at the National Museum in Manila.
More than 150 cartons of clothes, dress accessories and shoes were transferred to the National Museum for safekeeping two years ago from the riverside palace. They deteriorated further at the museum after the boxes were stored in a padlocked room that was inundated by heavy rains last month because of a leak in the ceiling, museum officials said.
Quezon said the contents of the boxes have "no historical significance except some of the clothes" made by prominent Philippine couturiers. Museum officials said the Philippine-made gowns might be displayed in public, but they were wary because of the "politically sensitive nature of their provenance."
---