North Korea farm reforms: First step to a market economy?
North Korea's new leader Kim Jong-Un will allow farmers to keep – and sell – surplus crops, reports the Associated Press. The plan mirrors elements of China's farm reforms in the late 1970s and early 1980s.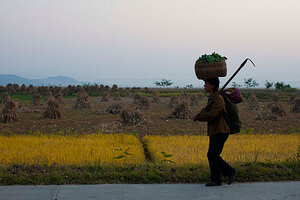 AP Photo/David Guttenfelder, File
North Korean farmers who have long been required to turn most of their crops over to the state may now be allowed to keep their surplus food to sell or barter in what could be the most significant economic change enacted by young leader Kim Jong Un since he came to power nine months ago.
The proposed directive appears aimed at boosting productivity at collective farms that have struggled for decades to provide for the country's 24 million people. By giving farmers such an incentive to grow more food, North Korea could be starting down the same path as China when it first began experimenting with a market-based economy.
Two workers at a farm south of Pyongyang told The Associated Press about the new rules on Sunday, saying they were informed of the proposed changes during meetings last month and that they should take effect with this year's upcoming fall harvest. The Ministry of Agriculture has not announced the changes, some of which have been widely rumored abroad but never previously made public outside North Korea's farms.
RECOMMENDED: How well do you know North Korea's new leader? Take the quiz
---