Aung San Suu Kyi wants sanctions against Myanmar(Burma) lifted
The Burmese opposition leader, who's now a member of the country's Parliament, is urging an end to US sanctions against her impoverished nation.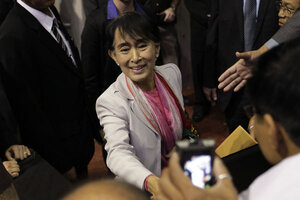 Michael Conroy/AP
Myanmar(Burma)'s opposition leader Aung San Suu Kyi reiterated a call Tuesday for the lifting of sanctions against her impoverished country, and vowed to use her new parliamentary role to foment more change.
Thousands of elated supporters greeted Suu Kyi with cheers, tears and a standing ovation as she took to the stage at the Allen County War Memorial Coliseum in Fort Wayne, Ind., the fourth stop on her 17-day U.S. tour.
Sixty-seven-year-old Suu Kyi, who was recently elected to parliament after spending 15 years under house arrest for opposing Myanmar(Burma)'s military rulers, voiced optimism for democracy in her Southeast Asian home.
"The important thing is to learn how to resolve problems. How to face them and how to find the right answers through discussion and debate," the Nobel Laureate told the more than 5,000 people who gathered to hear her speak. Fort Wayne is home to one of the largest Burmese communities in the United States.
Myanmar(Burma)'s half century of military rule made the country something of a pariah in the international community, inviting crippling sanctions. But President Thein Sein has introduced political and economic reforms in recent years and the U.S. administration is considering easing the main plank of its remaining sanctions, a ban on imports.
Suu Kyi said the sanctions were effective in pushing the junta to reform, but that "they should now be lifted" so that Myanmar(Burma) can rebuild its economy.
"We cannot only depend on external support and support of our friends from other nations. We should also depend on ourselves to reach this goal," she said.
---