Twin blasts rock Syria's army command headquarters in Damascus
State-run media and witnesses report that two explosions targeting the army headquarters in Damascus. Rebels and the army have differing reports on the number of people killed.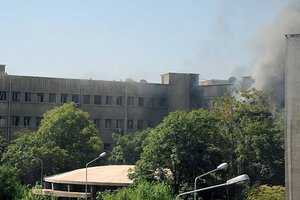 SANA/AP
A Syrian rebel bomb attack reduced the army headquarters in Damascus to a smouldering wreck on Wednesday as world leaders, unable to break the diplomatic deadlock in the conflict, met at the United Nations.
The rebels said the assault on President Bashar al-Assad's power base in the center of the capital killed dozens of people.
The army said four guards were killed and 14 wounded in what it said were suicide attacks. No senior officers were hurt in the blasts, which shook the whole city just before the start of the working day, it said.
It was the biggest attack in Damascus since July 18 when a bombing killed several senior security officials, including Assad's brother-in-law, the defence minister and a general.
Since then Assad's forces have pushed back rebels to the outskirts of the capital but have lost control of several border crossings, struggled to win back the northern city of Aleppo and mounted air strikes to crush opposition in rebel territory.
State television showed CCTV footage of a white minibus pulling up by the side of the road and exploding in a ball of flames. It showed another blast 10 minutes later, apparently inside the complex.
The explosions struck as world leaders met at the United Nations, where deadlock over Syria has blocked a united global response to a conflict which activists say has killed 30,000 people, forced a quarter of a million refugees to flee the country and left 2.5 million people in need of help.
---