Myanmar's reformist president asks world to see his country in a new light
Speaking before the United Nations General Assembly, Myanmar President Thein Sein, whose reformist government has helped his country emerge from five decades of authoritarian rule, asked the international community for 'understanding and support.'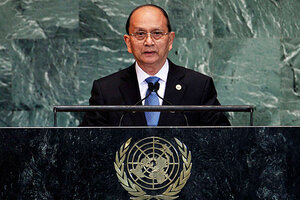 Lucas Jackson/Reuters
Myanmar's president on Thursday called on the world to take a fresh look at his Southeast Asian nation as it undertakes reforms, emerges from decades of authoritarianism, poverty and isolation and sheds its former pariah status.
President Thein Sein told the U.N. General Assembly that sweeping changes in Myanmar - the freeing of hundreds of political prisoners, fair by-elections, ending media censorship - have created "a new political culture of patience and dialogue."
The 67-year-old former general and former military junta member has emerged as the unlikely catalyst for a wave of reforms that were unthinkable a year ago in the former British colony also known as Burma.
"The political progress in our country is enhancing its political legitimacy. This, in turn, facilitates the creation of basic political stability, thereby paving the way for economic and social transformation necessary for (a) better living standard of the people," Thein Sein said through a translator.
Thein Sein's reformist, quasi-civilian government took office in March 2011, ending five decades of military rule in Myanmar and ushering in broad changes.
"To complete this process, we certainly need the understanding and support from the United Nations and its member states, the international community as a whole and, last but not least, the people of Myanmar," Thein Sein added.
He said Myanmar's political and economic reforms, as well as its efforts to wind down decades-old wars with ethnic groups, justify viewing the country in a new light.
"At the same time, it is equally important that Myanmar should be viewed from a different and new perspective," Thein Sein said.
---