Al Qaeda-style strikes on Shiites in Iraq kill at least 26
The attacks across Iraq appeared coordinated and included car bombings, a favored tactic of Al Qaeda in Iraq.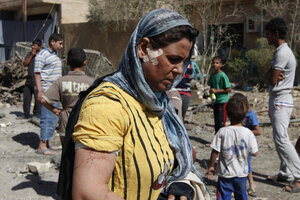 Saad Shalash/Reuters
Bombs striking Shiite neighborhoods, security forces, and other targets across Iraq killed at least 26 people Sunday, officials said. It was the latest instance in which insurgents launched coordinate attacks in multiple cities across the country in a single day, apparently intending to rekindle widespread sectarian conflict and undermine public confidence in the beleaguered government.
The deadliest attack came in the town of Taji, a former Al Qaeda stronghold just north of Baghdad, where three explosive-rigged cars went off within minutes of each other. Police said eight people died and 28 were injured in the back-to-back blasts that began around 7:15 a.m.
In all, at least 94 people were wounded in the wave of attacks that stretched from the restive but oil-rich city of Kirkuk in Iraq's north to the southern Shiite town of Kut.
There was no immediate claim of responsibility for the violence, but car bombs are a hallmark of Al Qaeda in Iraq. The Sunni militant network has vowed to take back areas of the country, like Taji, from which it was pushed before US troops withdrew last December.
Shortly after the Taji attacks, police said a suicide bomber set off his explosives-packed car in the Shiite neighborhood of Shula in northwest Baghdad. One person was killed and seven wounded. Police could not immediately identify the target.
"So many people were hurt. A leg of a person was amputated," lamented Shula resident Naeem Frieh. "What have those innocent people done to deserve this?"
And in Baghdad's bustling Karrada neighborhood, a parked car laden with explosives went off next to a police patrol, killing a police officer and a civilian, other officials said. Eight other people were injured. The blast was followed minutes later by another parked car bomb as people gathered, killing three civilians and injuring 12 others, they added. Secondary bomb blasts targeting those coming to help the wounded are a common insurgent tactic.
---