Russian church calls on court to show sympathy if Pussy Riot repents
As the punk band Pussy Riot prepares for an appeal court ruling on their two-year sentences for hooliganism, the Russian Orthodox Church said any repentance for their actions should be taken into consideration.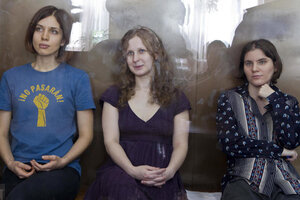 Misha Japaridze/AP/File
The Russian Orthodox Church called on Sunday for members of the Pussy Riot punk band to repent, on the eve of an appeal court ruling on their two-year sentences for performing an anti-Kremlin song in Moscow's main cathedral.
The three performers of the "punk prayer" criticising President Vladimir Putin's close ties with the Russian Orthodox Church were convicted of "hooliganism motivated by religious hatred" by a district court on Aug. 17.
Vladimir Legoida, a senior church spokesman, said their act "must not remain unpunished whatever the justification," but that any repentance, if expressed, should be taken into account.
"The church sincerely wishes for the repentance of those who desecrated a holy place, certainly it would benefit their souls," Legoida said in an official address.
"If any words of the convicts indicate repentance ... we would wish that they are not left unnoticed and those who violated the law get a chance to mend their ways."
A church statement after the August verdict indicated that the clergy would back a pardon or a reduced sentence, but that would have required Nadezhda Tolokonnikova, 22, Maria Alyokhina, 24, and Yekaterina Samutsevich, 30, to admit their guilt, something their lawyers say they will not do.
---