Syria: Fighting rages on in Aleppo after fire guts UNESCO site
Fresh fighting in Syria's commercial capital has claimed at least five more lives, according to activists.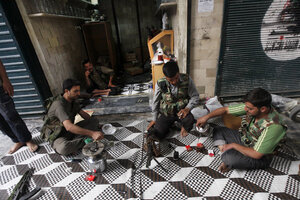 Hussein Malla/AP
Fighting between Syrian rebels and government forces killed at least five people in the embattled northern city of Aleppo, activists said Sunday.
The London-based Syrian Observatory for Human Rights said the dead included a man who has been shot by a sniper near the city's medieval citadel earlier in the day. Several homes were also destroyed in the violence, the Observatory said.
The country's commercial capital and largest city, Aleppo is home to some 3 million people and was once a bastion of support for President Bashar Assad. But the city has been hit by fierce fighting since rebels launched an offensive there in July.
Syria's state news agency says Assad's troops have carried out a "successful operation" in western Aleppo against "terrorist gatherings" – a reference to the rebel Free Syrian Army. SANA said several rebels had been killed or wounded in the violence, but gave no other details.
On Saturday, a fire sparked by battles between Assad's troops and rebels tore through Aleppo's centuries-old covered market, one of the best-preserved bazaars in the Middle East. It was the worst blow yet to the city's historic center and to a UNESCO World Heritage site in Syria.
The heightened violence in Aleppo drew criticism from the city's industrialists of "insufficient" government protection provided to factories and other businesses in the area.
Businesses call for security
---