Turkey's prime minister trumpets their democratic credentials
Tayyip Erdogan, Turkey's prime minister, said Sunday that Turkey's successful democracy should serve as an example to all Muslim countries. Critics say Erdogan is too authoritarian and stifles dissent.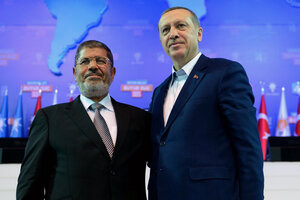 Kayhan Ozer/AP
Prime Minister Tayyip Erdogan trumpeted Turkey's credentials as a rising democratic power on Sunday, saying his Islamist-rooted ruling party had become an example to the Muslim world after a decade in charge.
Addressing thousands of party members and regional leaders at a congress of his Justice and Development (AK) Party, Erdogan said the era of military coups in the nation of 75 million people was over.
He vowed to forge a more diverse constitution and turn a new page in relations with Turkey's 15 million Kurds, in a speech lasting almost two and half hours and meant to chart the AK Party's agenda for the next decade.
"We called ourselves conservative democrats. We focused our change on basic rights and freedom," Erdogan told thousands of cheering party members at the congress in a sports stadium in the capital Ankara.
"This stance has gone beyond our country's borders and has become an example for all Muslim countries."
Leaders including Egyptian President Mohamed Mursi, Kyrgyz President Almazbek Atambayev and Masoud Barzani, president of Iraq's autonomous Kurdistan region, were among the guests.
---